Escorts & Reviews - Agency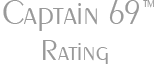 « Go Back | Add Review | Visit Site
Rugbylad

Value: 4/5

Published 02 Jan 2015

Their website is very easy to navigate
There are pictures on the site
The pictures are 100% genuine and totally representative
I saw pictures so no description was necessary.

I found communication with the agency to be very comfortable
No, I did not speak to the escort

The escort I saw was the one I originally booked
My special requests were fully met
The escort asked for the agreed amount, including all expenses
On a scale of 1 to 5 I rate this agency as a 4 for value for money.
I will definitely use this agency again

Finally the sort of agency I have been looking for. Wonderfully easy to deal with. Harry a man of few words and while different dealing with a man, never weird or uncomfortable. Harry does exactly what he says he will when he says he will do it and I gave him a really tough time due to some absurd "small world" coincidences in the hotel I was staying in. Both he and the escort bore these with total patience... I'd have probably told me to £$@@ off! Escort was awesome. First time I've ever booked an escort who is better than her pictures. Will be working to stay on the right side of Harry as I don't think I'll look beyond his agency for my bookings in the future.